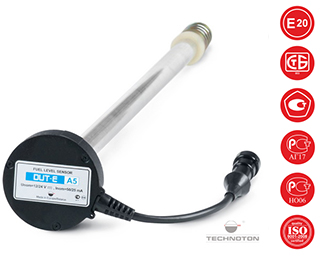 Fuel level sensors
Fuel level sensor DUT-E. Fuel volume and level measurement
Fuel level sensor DUT-E is designed for precision fuel level measurement in all kinds of vehicle tanks, also in tanks of fixed installations.
DUT-E can be used as a part of a fuel monitoring system or to substitute the standard fuel meter of a vehicle.
DUT-E as a part of telematics system is used:

to obtain reliable information about current fuel volume in vehicle tank;
to define the vehicle fueling volume;
to detect fuel theft from the tank;
to carry out the remote tank monitoring;
to determine fuel consumption.

SMART SENSOR FOR FUEL TELEMATICS

---
Features
---
configuratable thermal correction for automatic compensation based on ambient temperature*;
digital self-diagnostics to control data reliability*;
conformity to compulsory automobile standards of the European Union, Russia, and Belarus;
no recalibration required for up to 30% length reduction of the sensor (DUT-E А5, DUT-E А10, DUT-E F);
length increase with additional sections of DUT-E – up to 6000 mm*;
ergonomic bayonet-type fastening to save mounting time;
sealing openings to prevent tampering;
all the necessary mounting items and cords in delivery set;
* – DUT-E 232, DUT-E 485.
 
The filter provides protection against water and fuel inclusions
Additional setup stiffness with a unique spring catch
---
Recommendations on connecting and set-up of fuel level sensors DUT-E and GPS vehicle trackers can be found on this page.
---
---
Operating principle
capacitive
Measurement inaccuracy, %, not more than
0.2 for stationary fuel tanks and stationary vehicles;
1 for moving vehicles
Supply voltage, V
10-50
Overvoltage protection, V
up to 100
Operating temperature, оC
from -40 to +85
Current consumption, mA
≤25 (24 V)
≤50 (12 V)
Output signal

DUT-E A5: analog, output voltage range 1.5-4.5 V;
DUT-E A10: analog, output voltage range 2.5-9 V;
DUT-E I: analog, current range 6.7-20.0 mA;
DUT-E 485: digital, DUT-E COM protocol;
DUT-E 232: digital, DUT-E COM protocol;
DUT-E F: frequency output 500-1500 Hz.

Length, mm
2500, 2000, 1400*, 1000*, 700*, 500, 350, 250, 180
Warranty
18 months from the date of installation or 24 months from the date of manufacturing
* – only specified length ranges for DUT-E 232 and DUT-E 485
---
---
DUT-E has a standard 5-bolted flange and can be installed either in a place where the standard fuel meter is situated or in a separate aperture in the fuel tank. All necessary details for the installation and sealing of DUT-E sensor are present in DUT-E mounting kit.It is recommended to install DUT-E in the geometrical center of a tank.After the installation of DUT-E is complete, you must perform tank calibration. A calibration table is built in the process, where the output signals of the sensor correspond to correct fuel levels in the tank.
This table is used by a fuel monitoring system to determine how much fuel is in the tank.
DUT-E 232 and DUT-E 485 are able to calculate fuel volume by themselves (either in liters or in per cent values of full tank) and send this data in an output message. To do this, the calibration table must be saved in the memory of the sensor using the SK DUT-E service kit.
DUT-E fuel level sensor transmits the data about the current fuel level to a GPS tracker. The fleet monitoring system determines the place and the time of this transmission using GPS. The user will get the information about events and the parameters of the vehicle in a form of graphics and tables.
---
---